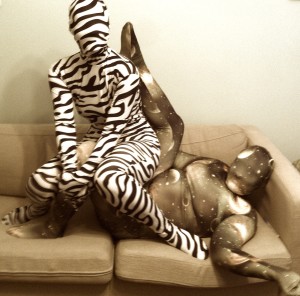 I am lucky enough to have a friend who's fetish is Zentai.  She has a whole bunch of suits and was awesome enough to ask me to join her for a journey through some "Z".  It's funny, but with Zentai, as many people who have asked me "what's that" when I mention it, those in the know are like "ooohhhh, Zentai, huh?!".  And it is something funnily endearing.  When you know Zentai, it's worthy of a friendly nod and smile of approval…
So, what IS Zentai?  Zentai is a word from the Japanese language meaning "skin tight garment" or "full body stocking".  Zentai suits are the full body stretchy suits worn by film actors to animate monster characters mastered by green screen graphic effect artists in the movies.  Zentai suits cover the full body including stocking feet, gloved hands, and a full head mask.  Everything is covered.  You can get them with various alterations including gloveless or footless, mask-less, or you can have your mask altered to include eyeholes, a mouth hole, nose holes, etc.  Some are even crotchless or have holes for easy breast play access.  You can see through the tight material, though not incredibly well, and though they do get pretty hot, you can breathe in them just fine.  Zentai suits are also worn by dancers, actors who are working in "neutral mask", cosplayers, weirdo performance artists, fetishists, and the occasional superhero.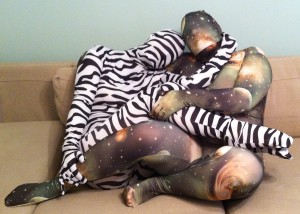 Where to get your very own:  Milanoo.com is a great place to look for Zentai suits, just check out their costume section's "zentai/catsuits" listings.  For around $20-$50 you can get a basic one-size-fits-all suit that's good to go and you'll look great in it.  If you like, you can spend closer to $230+ and own their Stylish Multi Color Unisex Trendy Latex (Lobster Person) suit, or a plethora of other blow-up latex creature suits!  The limitations of the imagination are your only stopping points on this ride, so have fun looking around and seeing what's out there.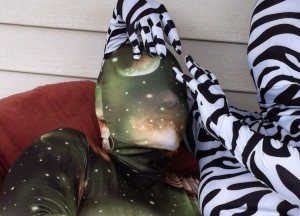 My Zentai:  My first experience with Zentai was extremely fun.  I went over to my friend's house, we suited up, and then spent some time cuddling and playing.  Later on we went over to a clothing optional yoga class another friend was teaching (who we'd cleared our zentai-ness with in advance), and did a full 90 minutes of blind yoga.  It was quite the evening.
Zentai takes away or diminishes the senses at the same time as it warps them.  You can see through the mask, but not well.  You can feel through the gloved fingers, but differently from usual.  You can breath, but it's hot and through cloth.  You can't eat or drink, needing to use the bathroom is an ordeal, and your body is slippery.  Crane pose is near impossible.  To others you are a blank slate.  It can really freak people out to hear your voice or feel you around them but look into your face and see a blank faceless canvas.  Body language becomes pronounced as a form of communication, and it's impossible to non-verbally communicate the details on your mind – you cannot express your thoughts with a look.
But the world is smaller.  Emotions are clearer and sometimes more consuming.  Imagination can run away with you, the room you are in can melt away.  Like with hoods, I find myself becoming smaller inside.  I feel little and slow and soft.  I just want to curl up like a kitten and caress the face and body of the people near me,  I want to be stroked and pet and cared for.  There is a body awareness to being in a bodysuit too.  Stretching feels amazing, feeling your own body sleek and smooth and round and muscled and bony and fat is a bit of a wonderland.  I loved running my fingers across my own curves, they felt foreign and exciting, and my own touch felt different too.  It was easy to be turned on, to just want to rub up against those closest to me.
I think Zentai suits as a fetish, kink, or bondage apparatus are sublime.  I look forward to playing again.  I think they would be good for objectification – both for the top demanding the wearer to act as a faceless toy/furniture/plaything, and for the wearer to have the enclosed space and sensory limitations to focus on a job easily and deeply.  Perhaps that shall be my next adventure…  Here's to yours, happy hunting.
To Breath and Being,
~ Karin
If you like my blog, please check out my Patreon Page and consider supporting me, or just click here: Support the Artist
~Thank you.
###
Be an ABCs contributor:  Do you have a story or perspective to share about kink or would you like to promote a kinky event?  Email Karin directly at: Karin @ ABCsOfKink . com or fill out the as-anonymous-as-you-want-it-to-be feedback form below and you could see your writing published as a part of Wednesday's "Perspectives on Kink: Conversations with the Community" blog on this site.  Don't know what to write about?  Consider answering some of the Survey Questions I posted recently.  Happy writing, and thanks!