For years I was the book buyer at "Grand Opening!" sexuality boutique (where Good Vibrations is now in Brookline, MA).  We were a tiny little sex store that was owned and run by women and had deep roots in the sexy/kinky/fetish/makers communities here in the Boston area.  I miss that job a lot.  Sufficed to say, I am a total sex geek, and today I thought I would share with you:
Books I'm reading right now (I think maybe I juggle a bit more than a lot…):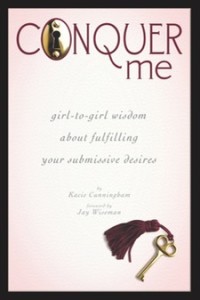 Conquer Me: girl-to-girl wisdom about fulfilling your submissive desires
by Kacie Cunningham
The first time I read this book I wept because I felt I had never read or heard said out loud so many of the feelings I have (and have had for a long time) about my desires in relationship.  This book helped me commit to my progress and continued search in the kink community and in life for my place and my joy.  Reading Conquer Me felt all at once like a painful, scary, and extraordinarily relieving coming out to myself.  I am reading it again as my relationship status changes as a reminder of what I thought then and as an exercise to consider what applies now.  I will pass it on to my partner when I'm done.  I think it will put a few things in perspective and at the very least encourage more great conversations between us.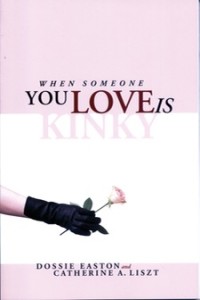 When Someone You Love is Kinky
by Dossie Easton and Catherine A. Liszt
These are also the authors of one of my all time favorite books, The Ethical Slut: A Guide to Infinite Sexual Possibilities (which technically I'm also reading right now, as a read out loud with a friend).
When Someone You Love is Kinky is (so far) not only compelling, but a solid conversation of the basics of communication and capable walkthrough of the subject at hand.  It is also a "pull on your heartstrings" beautifully presented reminder that you can be as academic as you like about subjects that effect people emotionally, but presenting the words of people working through their feelings is a powerful tool as well.  I love the varied perspectives into the subject it offers.  I recommend this book to anyone with questions – even the kinkster novice.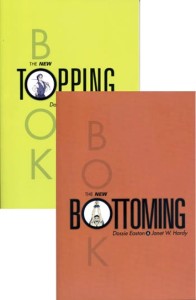 The New Bottoming Book
by Dossie Easton and Catherine A. Liszt
You sense a theme here, don't you?  I can't live without Greenery Press, or the amazing duo that is Dossie and Catherine…
These are classic books that have been around for a bit and are great introductions to what topping and bottoming entail respectively.  The New Bottoming Book so far is a really fun read, has some great ideas, good first hand stories, and gives great perspective on the many reasons why people bottom.  It is a great resource for thinking of the even more diverse ways to approach it yourself…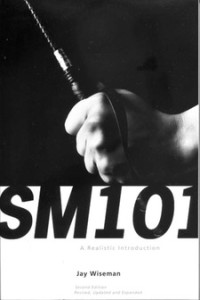 SM 101: A Realistic Introduction
By Jay Wiseman
This book is a one stop starter for people who wonder how it's all done (and what it all is)…  I've been flipping through the pages of this particular soft cover for nearly 15 years.  Though aspects of the POV may be slightly dated, I think it's a wonderful resource and this book helped me get my mind around a lot of kinky concepts when I was first learning about the subject.
Research and reference happily continues!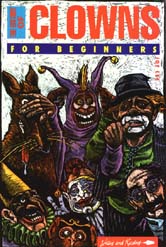 The History of Clowns for Beginners
by Joe Lee
Well, I am a clown school dropout, and this is one of the best books ever created ever.  Seriously.  You can learn a lot about life and love and foolishness and primal tendencies and undermining social values by learning your clown history.
Also, outside the concept of having a clown fetish, if you don't think clowns are some of the sexiest, kinkiest, most deviant-in-the-best-ways-possible people/creatures/concepts you'll ever meet – you haven't met the right clowns.  Fact.
Here's a couple more titles in the pile next to my bed, books I've thumbed through and will get into soon:
My bookshelf's sexuality section is rather extensive (as you might have guessed), and the titles above are just the ones I've pulled recently to read or reread…  Have a title you think I should know about?  Please drop me a line, I'd love to hear about your favorite books too.
To Breath and Being,
~ Karin
If you like my blog, please check out my Patreon Page and consider supporting me, or just click here: Support the Artist
~Thank you.
###
Be an ABCs contributor:  Have a story or perspective to share about kink or want to promote a kinky event?  Email Karin directly at: Karin@ABCsOfKink.com or fill out the as-anonymous-as-you-want-it-to-be feedback form below and you could see your writing published as a part of Wednesday's "Perspectives on Kink: Conversations with the Community" blog on this site.  Don't know what to write about?  Consider answering some of the Survey Questions I posted recently.  Happy writing, and thanks!