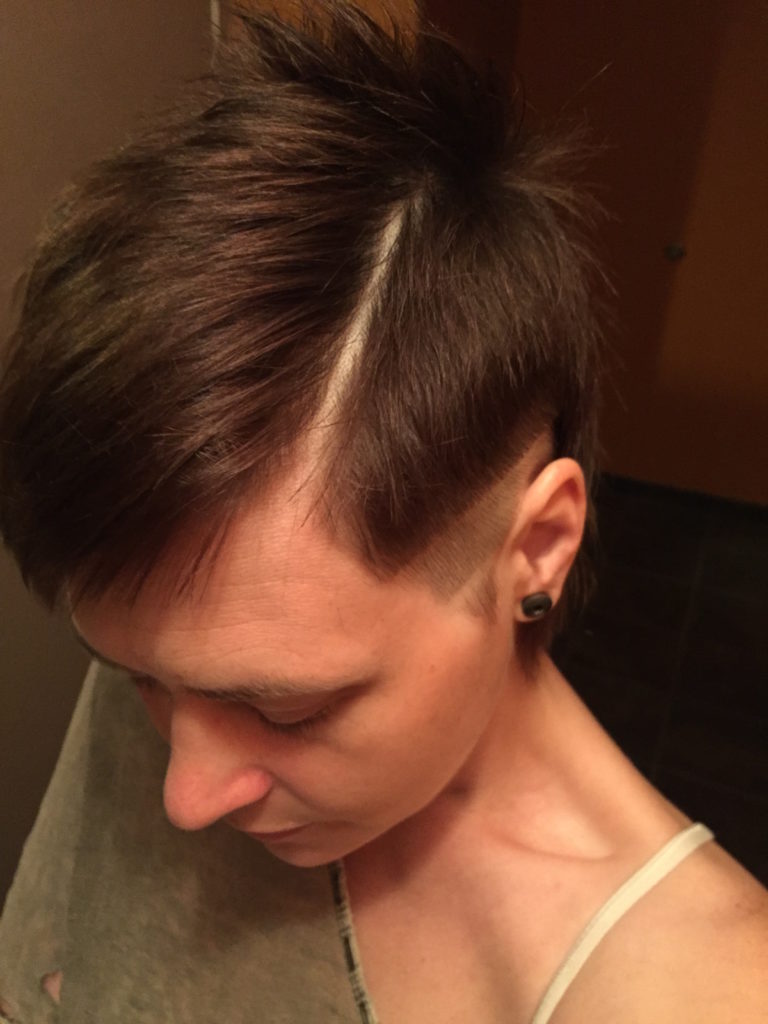 It's about to rain and I am leaving my house soon. Thunder is cracking. The heat and humidity has been terrible and a storm will pass through to wipe it all away. Reset the air. Reset our attitudes. Reset for the next swell of inflammatory summer. I am beginning my writing too late. I've been putting it off, feeling my own stress build — but that's what happens when you live in a van crossing the country in a driver's seat instead of staying on top of your email. I'm excited to be caught walking in the wet (abnormal for this cat but true). I'm scratching at the door. Let me out of here!
I want the wet to decompress in. I want the wet to soggy down my thoughts and haze, hanging humid in my brain about what next: City or country? Domlife or stage haunt? Garden and tincture or weld and glassblow? Why not all the aboves? How? Am I keeping up with my daytime disciplines or do I need to be doing more each day to find my foothold, to get ahead? I'm thirsty. I want the wet to cool me, calm me, center my body and mind. I want the wet to be, like, graphically wet. Natural lubrication from the sky over my clothes and body making things slippery smooth, and I'll have no choice but to feel everything differently because of it. The wet slows me down even as it unglues me. Wet, as it hangs around undry, argues that we are Taking. Our. Time.
Everyone is arguing the vocabulary of identity in this heat, as if a standard could ever exist… The point of identity is intimacy. The words I whisper to you about me. My words, mine. In the big picture yes, they shouldn't say that in front of those people, because everyone knows better these days, but what does this mean now that we've embraced that thing over there, and where do we put all those ideas from yesterday? On and on and on forever because as organisms cursed with the glory of life we must do the most beautiful-terrible thing constantly all the time: grow.
I, for one, am happy that we won the term "Queer" back, and that "they/them" is in vogue these days (I've been waiting patiently for that one for a couple of decades now), yet it seems they're taking "Bi" away in exchange. I've been Bi, and even if it's not what I use now, I don't like the new fangled words more than that one. I think it's fine, and unfairly villainized, and everyone knows what it means even though the echo of "two" turns a tad sour in our mouths when we taste for Gender. But that's not what it really is trying to say. Yes? Still though, off and away she goes. I hope my made-up identity, "Sexual", catches on one day. I know there's a question mark containing eyebrow arch from an Ace or Ace ally in the room (written with love).
Words are imperfect.
Our attachments to them are not just by dictionary, but in association. We each associate variably.
I love the word "Cunt" because it feels so fucking good in my mouth… just like a cunt does. And "Dyke". It's mine. My identity. You can't wrestle it away from me.
What are the symbols for Queer now? What pictorial phraseology do we use to wink at Stealth Queers and Passing Trans and Kinksters in a picture of "Friday at the office" before going out to haunt the night dressed in shades of inappropriate and "oh my"? Does it matter anymore? Has it all been commodified and commercialized and spread too thin to recognize? Now that we ask one another for pronouns, and get all the consents, what's the point of a flag or a tapdance on the men's bathroom floor? Where are our cheats and naughty, perverted, under the radar confessions flown in public now? How do we signal the quiet queering of our spaces? Or is outing it all without a legally backed oppressor in sight what we've been building towards? Will there be no Queer one day? Will we laugh or cry on that humid afternoon? (See, one can get all romantic and sappy about the shitty but hardcore past without being a TERF about it. Fucking wankers.)
And the rain. Slowing. Me. Down.
Even though 1s and 0s seem to make the Earth spin faster on its axis, when we get together after typing lustful confessions and someone lumbering through town to the other one's sty, we still have to face one another. Cold water. Eye to eye. Breath and breath. Heartbeats, nerves, smiles, knee jerks, clumsy fumblings, mismatched desires, unequal libedo, and under it all a glorious sense of "am I really doing this right now?!". Yes! The short answer. That perversion is still real. You are doing it.
So breathe. Don't sweat the small stuff. We haven't forgotten how to communicate completely, we've just been pressured to move too fast.
What do you want to know about me? I want you to ask. We can fight about politics if you scene me roundly into a second date… But for now, slow down. Let's be wet. Wet and cool and away from the swell of inflammatory summer.
It's raining now, I'm stepping out.
Play On My Friends,
~ Creature (Crea)
If you like my blog, please check out my Patreon Page and support me. For one time donations click here: Support the Artist
~Thank you.