Dearest of my dear things:  Jacking off and Jilling off, wanking it, self-pleasuring, stokin' the furnace, mutual masturbation and of course just plain ol' masturbation is the name of the game today, and what a game it can be!
I.  LOVE.  MASTURBATION.
Why Masturbation?  Why NOT masturbation, I barbarically yawp!?  It is the practice that a good player puts in before the big game.  It is the research student's inspiration and primary experiment.  It is the source of self, of autonomous confidence, of grounded connection within your own base structure.  Being in contact with your body and pleasure is a gift from nature that should not be squandered.  It can inform your own quality of life, and the quality of play you may share one day with others.
Here's what masturbation is good for (an extremely partial list):
Orgasm
Edging
Warmth on a cold night
Meditation
Sex when you can't be near your partner(s) of choice
Turning your playmates on with your very own flavor of auto-prowess
Pain Processing
Getting your heart rate up
Grounding yourself
Cure for bordom
Self exploration
Learning new techniques
Curing Hysteria
The elixir for a longer and healthier life
Self love helps depression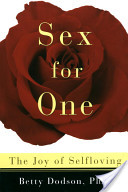 But God:  I'm pretty sure one of those big guys in the sky said "let there be light".  If freeing your mind, heart and body while causing no harm to others isn't shedding light in this life, I don't know what is.
That said, there are some reasons not to masturbate when you want to:
If masturbation at that time in that place would, indeed, cause actual harm to yourself or others (physical, emotional, or psychological).  Play consensually when you touch yourself in proximity to others)
When masturbation is an action that you are trying to have better boundaries around (some people who are working through sexual compulsion issues might be thinking about this)
When there's just not enough time and you're setting yourself up for a frustrated post-play/pre-orgasmic energy jam…
But then again, those reasons got nothing to do with Gods, and everything to do with common sense and knowing yourself well.
Look Mom!  Hands Free!:  Urban Tantra: Sacred Sex for the Twenty-first Century by Barbara Carrellas is a wonderful book which will help you focus during your sensual time with yourself and/or playmates.  She teaches a lot of breathing techniques, and gives exercises on how to move energy throughout your body for more intensive or intentional sexual ends.  I know people who through breathing techniques alone can achieve orgasm.  I highly recommend this book to anyone who wants more from their sexual experiences.
Masturbation and Me:  I am a late bloomer.  I didn't start masturbating until I was nearly 21.  I had been having sex for 4 years at that point and had slept with a decent number of people and considered myself fairly educated sexually.  I had never experienced orgasm or even the ramp up to one, though I would say that I'd had great sex pretty often.  The decision to change all that happened when my partner at the time went down on me and I felt that first ramp up to orgasm.  I'd never experienced it before, and I thought at the time that that was what an orgasm was.  It occurred to me that I'd had a lot of sex, and I still didn't know my body well enough to tell a partner what to do to make me feel good, and I didn't know how to replicate the sensation I had received.
I thought that was pretty fucked up, so I went to Grand Opening! Sexuality Boutique (where my future self would be working the following year), bought my first vibrator, the book Sex For One: The Joy of Self Loving by Betty Dodson, had my first orgasms, broke up with my boyfriend (who was psychologically abusive, not just good with his tongue), moved to London, got my first Girlfriend, came out to myself as Bisexual…  and the rest really is history…  What I DO have to say about masturbation is that once I learned to do it successfully I never looked back.  It became a part of my partnered sex life as well as my own form of personal meditation.  All of my partners have learned to love my little Water Dancer (the one I've been toting around for over a decade now).  Over time I learned to have multiple orgasms, ejaculate, control the muscles of my pelvic floor to squeeze and push (fun for playmates as well as me), orgasm to get rid of menstrual cramps and headaches, and a variety of other tricks.  To date I have had one orgasm "given to me", meaning I didn't give the orgasm to myself, and I must say as fun and satisfying as that orgasm was, making my own and getting some help from friends is just as delicious and fulfilling when I have a connected partner by my side.  Masturbation is not just a sexual theory put into use when I'm alone, it is part, parcel, and some of the best sex I can imagine having with the people I play with.
Where to learn more:  There are some really great books on the subject like Sex for One and The big Book of Masturbation.  For people with vaginas, clitorises, and g-spots who want to focus a little more on the g-spot and ejaculation I highly recommend Female Ejaculation and the G-Spot: Not Your Mother's Orgasm Book.  People with penises, testes, and prostates who want to learn more about separating out ejaculation from orgasm or becoming multi-orgasmic I recommend The Multi-Orgasmic Man.
And I suggest just trying things.  Fantasize!  Talk about masturbation with friends, find out what techniques they love and try out the ones you're unfamiliar with next time you're on your own.  Read and watch erotica, watch porn that has masturbation scenes and figure out what turns you on about them and what you might like to try.  Talk to your lovers!  Do it together and have a race to see who can get off first.  See how many times you can make your partner edge before you let them come.  Masturbate until you're both ready and orgasm together while making out.  What have your partners noticed you like when they touch you?  Ask them what they've learned from past partners as well.  Talk during masturbation, let your mouth be sensual.  Touch parts of your body that are not genitalia – chest, neck, thighs, stomach, ass…  Think about the ways all of our bodies correspond and consider touching your clitoris the way you might the head of a penis, or stretch and play with your scrotum the way one might tug at the elastic skin of the inner labia…  Learn your anatomy, look at your genitalia in a mirror from new angles, carve out a few hours to touch each little bit of skin you see and consider the sensations you get from that.  Allow yourself to have questions, and then go seek some answers!
Your body is yours until it fails you, so treat it well and put love into it.  Value your sensations whether they be self-discovered or the caress/kick/lick/poke/slap of another.  Think about what your genitals' lives are like, and take the time to honor that part of your body as you would your favorite part of someone else.  Let your body tell you want it wants, and be good to you.
To Breath and Being,
~ Karin
Oh, and I know no conversation about masturbation would be complete without at least a mention of the Hitachi Magic Wand…  so there you are.  Enjoy!
###
If you like my blog, please check out my Patreon Page and consider supporting me, or just click here: Support the Artist
~Thank you.
Be an ABCs contributor:  Have a story or perspective to share about kink or want to promote a kinky event?  Email Karin directly at: Karin@ABCsOfKink.com or fill out the as-anonymous-as-you-want-it-to-be feedback form below and you could see your writing published as a part of Wednesday's "Perspectives on Kink: Conversations with the Community" blog on this site.  Don't know what to write about?  Consider answering some of the Survey Questions I posted recently.  Happy writing, and thanks!