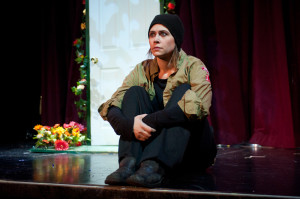 I think it takes a lot of complicated math to look at people as the complex human beings that they are.  Fear is a big player in our incapacity for seeing the many steps that make up a person's path.
I have been a professional storyteller since the age of 11.  I have been a children's theater teacher, an after school art teacher, a touring puppeteer, and owned my own puppetry business.
I have also been a sexuality educator for most of my adult life in one way or another.  I have worked at a sexuality boutique, taught toy parties; I am a kink writer, drag and burlesque performer, and adult woman with my own sex life outside of the personas I create for work.
Are these things at odds?  I don't think so.  Knowing who to talk to about what and when, having boundaries about what people want from me, and knowing when it's appropriate to bring up particular subjects, these are all skills I've learned along the way to being this complete (and still evolving) human being that I am.
As there is joy in the world, let there be light for all.  There is enough room for the spaces that make each one of us safe, and an acknowledgement that sometimes we have to share the road.  There are ways of navigating all these things with grace…
My fear is that I am not allowed to be all of who I am.  That there is a "Big Brother" judging my journey, and waiting for me to slip up somehow, somewhere.  Living in that fear can only make me small.  But in this lifetime, I have to claim that I want to exist to the fullness of my being, I want to be my all.
To Breath and Being,
~ Karin
If you like my blog, please check out my Patreon Page and consider supporting me, or just click here: Support the Artist
~Thank you.
###
Be an ABCs contributor:  Have a story or perspective to share about kink or want to promote a kinky event?  Email Karin directly at: Karin@ABCsOfKink.com or fill out the as-anonymous-as-you-want-it-to-be feedback form below and you could see your writing published as a part of Wednesday's "Perspectives on Kink: Conversations with the Community" blog on this site.  Don't know what to write about?  Consider answering some of the Survey Questions I posted recently.  Happy writing, and thanks!