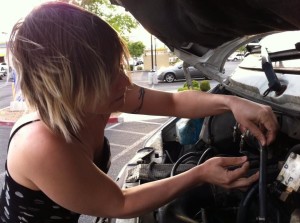 This week I am preparing to go out on the road again.  This time I'll be gone for about 9 months, maybe a bit longer.
There is a LOT to get done before I leave next Monday including putting my entire house in storage and building out the cargo van we are traveling in to make it a home on wheels.  That said, my sexy adventures will be limited and my writing time even less so…  The only porn I'll be watching is DIY van conversion porn, however, there is a sexy/kinky party I am hoping to attend just before we hit the road, so when I come back online next Monday hopefully I'll have new stories and perspectives to share!
While I'm gone take some time to look back at past blogs if you like, or write me something.  Think about sharing your own stories, I can always use contributors to the Wednesday blog, and I love to hear varying perspectives on all the subjects.  Is there something you'd like me to write about that I haven't touched on yet?  Let me know!
Be in touch, and I'll be back online soon, My Friends.
To Breath and Being,
~ Karin
If you like my blog, please check out my Patreon Page and consider supporting me, or just click here: Support the Artist
~Thank you.
###
Be an ABCs contributor: Do you have a story or perspective to share about kink or would you like to promote a kinky event? Email Karin directly at: Karin @ ABCsOfKink . com or fill out the as-anonymous-as-you-want-it-to-be feedback form below and you could see your writing published as a part of Wednesday's "Perspectives on Kink: Conversations with the Community" blog on this site. Don't know what to write about? Consider answering some of the Survey Questions I posted recently. Happy writing, and thanks!