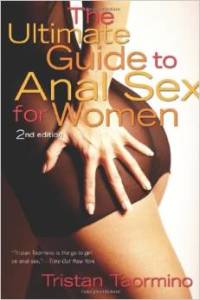 This morning I was PM'd by a friend, and I gotta say her questions led to one of the best breakfast chats I've had in a while.  Here's how it all went, and I'll get a little more into the guts of my answers for you now that I've had more time to think and find references.  Everyone wins today!
Friend:  hey girl, two questions if/when you're free…  can you recommend a good lube for anal penetration, as well as a good double penetration strap-on harness?
Me:  Ooh!  Let's break this down (rubs hands together and starts typing furiously)…
Lube:  A lot of my friends love just plain 'ol coconut oil (the kind in the jar that is solid at room temp) – I vote organic, and make sure there's no other ingredients added to the stuff.  I have enjoyed silicone lube too a thicker one will be best.  You're looking for viscousness, as the anus does not self lubricate it needs a lubricant that can stand up to friction and stay in place longer.  Thicker is generally better for anal.  There are a lot of lubes on the market specifically created with anal sex in mind, so ask your friendly sex store employee for their best recommendation too.
Toy and Barrier Considerations:  Remember that you can't use silicone lube with silicone toys as the additive that keeps the lube in its liquid form will deteriorate the silicone in your toy over time.  No one wants that.  Coconut oil will work great with silicone, plastic, metal, glass, etc, but it should not be used with rubber latex – no oil products should mix with your rubber latex condoms, gloves, or other barriers.  Here's where I recommend polyurethane condoms though!  In fact you can use any type of lube with these non-latex wonders, and they won't irritate your partner with the latex sensitivity either.  Consider keeping some on hand (these are the type I use and swear by).
As for penetration toys, there are a lot of differently designed double-sided dildos out there that are meant to simultaneously pleasure the penetrator.  Some might work with a harness, though many won't very well depending on your position, how they're angled, and your individual anatomy.
In another configuration of the double penetration game, if you're looking for a harness that will add a member onto your already-penis-wielding partner, or you're looking to fix more than one toy to your body at a time, you can find harness designs out there that will work out.
Consider toys that are specifically designed for double penetration with harness use!  Also butt plugs… I'll have to write more about toys in another blog – so many options!
Harnesses:  These are pretty varied in function, look, and design.  The journey of finding the perfect harness is a personal one that takes into account your needs for aesthetic, body type functionality, and usage compatibility.  I'd say it's best to go to a store like Good Vibrations, Self Serve Toys, or another independent, sex positive, and educationally committed store for best results picking one out.  Look at their harness selection to see which ones you like best and can imaging wearing and being comfortable in.  Also think about which styles might be most compatible for the specific uses you have in mind.  In stores like these absolutely ask the staff what they think of each harness.  They'll know the pros and cons of each and might point out an idea or issue you hadn't considered.  I've found design flaws with harnesses over the years in pretty much every style that's out there.  Some of those problems I can handle, and some annoy the crap out of me.  We'll probably have different complaints, and different solutions will work for everyone.  Your harness should last you a long long time so it's a good idea to take the time and do your research before purchasing.  Also consider this: thigh harnesses!
Friend:  also, one more thing:  is there a way to make anal sex pleasurable for women?  I've only had bad experiences.
Anal sex should be pleasurable:  Yes!  But it takes some amount of time and relaxation when you're not quite comfortable with the idea or experienced (sometimes a LOT of time and relaxation).  Here's some tips:
Start small (think pinky finger)
Go slow
Let the bottom be in control – as in it's better to back onto an insertable than it is to be filled at someone else's speed
LOTS 'O LUBE
Fingers are great starter toys because they're connected to your brain and an inanimate object is not.  Fingers will more quickly register and be sensitive to any reaction or subtle movement during play, and that connection can help you troubleshoot what might feel better more immediately
HAVE FUN!
Be REALLY turned on and WANT IT.  The more turned on you are the better you'll feel about what you're doing
LOTS 'O LUBE
Talk about your feelings with your partner(s) a whole bunch before playing so they have the opportunity to be sensitive to your reactions during play and know more about what your verbal or non-verbal cues might mean
Be verbal if you can – no pressure to be super sexy in your speech, but experiment and have fun and let your partner know what's working, what you like, don't like, would like more of, or try next
Be a scientist when you start out.  Try to stay present with what's going on and observe yourself and your partner as you go along
Things like rimming, anal massage, and a lot of foreplay around your anal area are really great methods to help you more fully enjoy the penetrative act (should penetration be your goal to begin with).  I find rimming and anal massage to be wholly wonderful on their own too
Relaxation is key.  The moment you tense up is the moment you should slooooowwwwww dooowwwnnnnn again
Some people are afraid of the potential mess that could happen from anal play, and that hangup can make it hard to stay present during the act.  Think about and acknowledge how the subject plays into your feelings, and let your partners know.  Allow yourself to be prepared if this is something that concerns you:

You can take a shower beforehand
Have condoms, gloves, extra sheets or towels, etc available if that makes you feel safer and happier while playing
There's nothing wrong with getting up in the middle of play and washing your hands, toys, or other body parts in preparation for the next part of play
And if this is not something that concerns you, great!
hmmm… anything else?  That's most of what I've got off the top of my head…
You still there, or have you started playing yet?…
Bueller?
End chat I guess…
To Breath and Being,
~ Karin
If you like my blog, please check out my Patreon Page and consider supporting me, or just click here: Support the Artist
~Thank you.
###
Be an ABCs contributor: Do you have a story or perspective to share about kink or would you like to promote a kinky event? Email Karin directly at: Karin @ ABCsOfKink . com or fill out the as-anonymous-as-you-want-it-to-be feedback form below and you could see your writing published as a part of Wednesday's "Perspectives on Kink: Conversations with the Community" blog on this site. Don't know what to write about? Consider answering some of the Survey Questions I posted recently. Happy writing, and thanks!