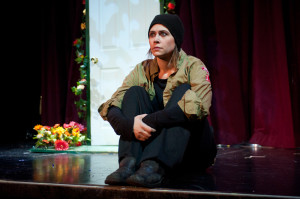 Todays blog is brought to you by adults not jumping into drama when something goes wrong, but talking things out instead. It takes courage to admit you've made a mistake. Yet everyone makes them and has to learn to face them when they occur. I made one recently, and while they never feel good to deal with, it's important to figure out what to do rather than kneejerk react. Throughout my life I've found that facing my fear of being in trouble is a more helpful coping mechanism than running away. Respect is an important part of being in community, and though not everyone will be friendly or happy together always — or even like each other fundamentally — I think how we choose to connect with one another matters on a larger scale. It certainly helps alleviate stress over time.
Recently I was at a BDSM play party, and I spent a little time chatting with a submissive person who I had met at a prior event. We were talking about a particular pain toy I enjoy using, and he seemed interested in seeing how it worked. I brought it to him and we moved fairly organically from a quick demo of the toy, to having a lot of fun together, and a pretty solid scene developed between us. What I did not know in this equation was that this particular person was the property of another partygoer. Mid play he mentioned I shouldn't mark a certain part of his body. I stopped cold. It is a pretty big faux pas to play with someone else's property without asking first. It's something I care a lot about respecting, as I would never intentionally cross someone else's play boundaries. I asked this sub if I should be asking someone for permission to play with him, and his expression immediately turned sheepish. I was informed that yes, he was in fact there with a Mistress…
I felt awful. I didn't know his Mistress, I had just met her that day, and the last thing I wanted to do was approach her and tell her I had played with her toy without asking. I could have gotten angry and made a scene about it. I could have stopped playing with the sub and not addressed his Mistress, hoping she wouldn't find out. I could have thought, "whatever, we've gone this far already, he'll sort it out on his own with her later," and continued to play. I could address the matter with his Mistress then and there and hope for the best. This last scenario is the one I chose. I scolded the sub for putting me in a very uncomfortable position (and I chided myself for not thinking to proactively ask). I told him to follow me as I made my way into the dungeon to seek out his owner. When I found her, I asked if I could play with her sub. She said that I could, and I informed her I had already started to, and that I hadn't realized I needed to ask her permission first, and I apologized. She seemed a little taken aback, but after a moment looked at me and said, "thanks for letting me know". She then went about her business, and the sub and I went about ours. He apologized to me for not letting me know sooner, and took responsibility for not saying anything early on. After sufficient acknowledgement of our feelings about the situation, we continued our scene and continued to have a great evening. Fortunately, I don't feel my relationship with him or his Mistress was compromised. I would definitely have worried about that if she'd found strange marks on him later without my apology attached to them.
Scenarios like this one are tricky, and happen frequently. I've noticed similar conflicts within polyamorous and BDSM circles, and (actually pretty frequently) monogamous people who cheat rather than examine their non-monogamous impulses. People lie. People don't tell the whole truth. People manipulate situations and other's perspectives through lies of omission to get what they want. People get caught up in unexpected moments of desire and feel all kinds of feelings when they realize they've violated agreements or relationship boundaries with their actions. Life is not as clean cut as most humans would like it to be. I think it's admirable to face the mess and try to help reality function more smoothly.
I live for my relationships and ties to people I care about. It matters to me that I face my mistakes when I know I've stepped in something I shouldn't have. I've been lied to and cheated on multiple times in my relationships, and I don't want to cause the hurt and mistrust in people that I've been made to process myself. Am I perfect? Hell no, I am not. I've made a lot of mistakes in my life and I'm sure my score won't ever be a perfect one. I do try and face the things I know I've fucked up about though. At the end of the day I've found it's brought me closer with many people and cut a lot of drama out of my field of vision.
It's normal to feel fear and not know what to do or freeze up, and it's human to be graceless, or not understand the consequences of our actions. It's impossible to know everything the people around us think we should know, but I also think it's important to care about doing better. It's important to cultivate fortitude and resilience and learn from our mistakes. Not everything in life is about "getting it right", but growing and learning and becoming bigger than we already are is one of the things we get to keep working on. Reaping the rewards which living a vibrant and nontraditional life can bring you does require sacrifice: courage against the pain of fear.
Play On My Friends,
~ Creature
Please support my work on Patreon. For one time donations click here: Support the Artist 
~Thank you.