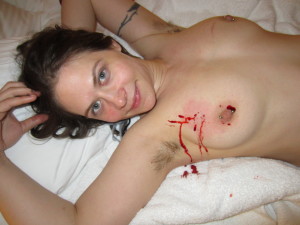 I think life is a series of trust exercises.
Know what you need going into things…  But at some point you have to jump and just experience where the fall can take you.
I am thankful for the people in my life who have been open and honest with me.  Those who have caught my eye and smiled back, those who have offered me help when I've asked, and those who have pushed me to go further or stay on course.  I am notoriously horrible at asking, but the open, artistic, ever changing, adventurous, out life I am privileged to live is in large part a product of time and again reaching beyond my fears and daring to want more, find more, accept more from myself and the people around me.
I think the hardest part of accepting the things I want most is realizing that what I am giving in return is sufficient.  Not everyone wants the same things, needs the same things, or is fulfilled in the same ways (seems simple when I write it down though)…
I love the dance of human evolution.  Hard as it may be, it is the path to a rich, healthy, adventurous happiness.  Thank you for joining me here.
To Breath and Being,
~ Karin
If you like my blog, please check out my Patreon Page and consider supporting me, or just click here: Support the Artist
~Thank you.
###
Be an ABCs contributor: Do you have a story or perspective to share about kink or would you like to promote a kinky event? Email Karin directly at: Karin @ ABCsOfKink . com or fill out the as-anonymous-as-you-want-it-to-be feedback form below and you could see your writing published as a part of Wednesday's "Perspectives on Kink: Conversations with the Community" blog on this site. Don't know what to write about? Consider answering some of the Survey Questions I posted recently. Happy writing, and thanks!