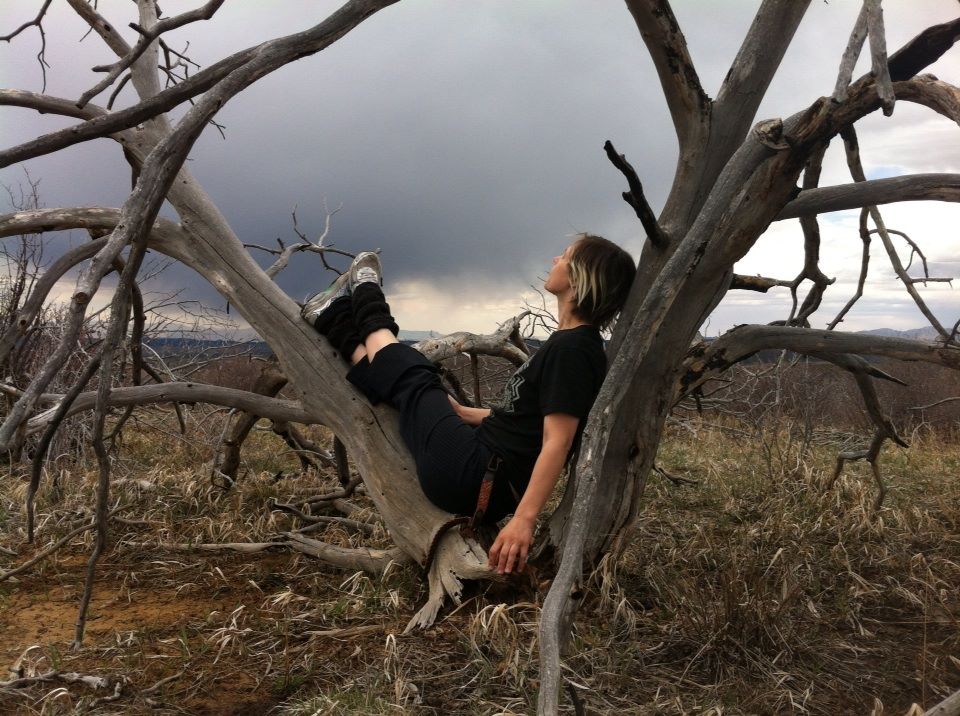 I played outside with friends and siblings throughout childhood and early adulthood and still prefer a lake or forest to my computer (though you wouldn't know it, as I'm glued to this contraption most of the time). The number one rule we got taught was not to talk to strangers. Back then talking to strangers happened face to face, and that stranger could snatch you away, drug you, lure you into a van with candy, or somehow deceive you like the Devil into unholy marriage…
Concerning talking with strangers: Things. Have. Changed.
I have a profile on half a dozen dating or socializing websites these days. They're all slightly different, and I use each of them for different purposes. Considering my proclivities outlined in this here blog, understand that I don't always lead whips and needle points out… I consider who my audience is when I write a profile. I consider the type of people who are also attracted to that website, and what my agenda is for each particular space. I think about who on each site I might be compatible with, versus whose agenda or advances I want kept far far away… Is the site "friend" friendly, or am I in violation of expectations if I'm not looking for FWB, NSA, LTRs, anonymous sex, etc.? Is the site kink friendly? How many intolerantly religious or conservative people will hit on me, ignoring the fact that I mentioned my queer, kinky, fluid, non-binary trans, non-monogamous, liberal and socialist as fuck, neo drag and burlesque performing, sex-positive, anti-misogynistic, anti-racist, egalitarian stuff right up front? Is the demographic tweaked older or younger? Is the demographic tweaked along gendered assumptions concerning power dynamics or traditional roles? Do I think any of the people I meet on the site will become close friends, potential dates, research buddies, clients, the list goes on…
I am a character actor. My job in this lifetime has been to watch people and listen to people and figure out what makes them tick. I also am a person (read: creature). An autonomous individual carrying around my own feelings and fears and blind spots and questions and beliefs. But mostly I'm a person who wants to meet you like I climb a tree. I want to see you from across a field and be interested in your form and movements. I want that momentarily piqued interest to slowly become the desire to get closer and investigate. I want approaching you to be anything but disappointing — please don't be rotten or surrounded by poison ivy… I want to put my hands on you, gingerly at first, and then full palm contact, sliding my arm around a branch, little by little giving you some of my weight. If it feels good and I can figure out how to do it, I want to crawl up your trunk, unpuzzling ways to get higher as we play this game of understanding our bodies together for the first time. When I've gotten to a place that feels good I want stillness and fresh air — to lie across your boughs perfectly balanced, only a little afraid that I'll drop. The climb down will be thoughtful and new too. I won't always be able to see where I'm going, but our solidly built connection heading up will help. And then a hug and a sigh — until next time I'm around, Tree, it was beautiful being with you.
It's unfortunate that most people I meet online do not climb trees with any regularity.
There is instead, with these safe-to-talk-to-'cause-online strangers, a blundering certainty that I am existent only to be placed like a bow upon a bough. It is assumed I will stay put until faded, worn, and falling apart, until I am taken down. It seems believed, in these many circles, that tree creatures are to be cut apart or molded into a shape that fits the suburban street they are growing on — even though Tree was a seedling before most houses in this neighborhood came around. I don't want your candy, your silver tongue'd promises, your vitriol for saying no, Troll. I want respect and solidity. Solidarity.
Every now and then with some sweet strangers I get to be Tree, feeling their creature climbing feelings, and bearing the weight of attention. I get to hold them in a naturally balanced and open place for just a moment before they get down. These are good message days…
How to talk to a stranger whose sense of touch is the plastic smoothness of a keyboard, not the rough and tumble ever changing texture of our barks? You cannot cut and paste the experience of a hiking trip or nighttime skinnydip. When we meet we have not seen it all, we have seen nothing! I like to be a creature meeting Tree, find me in a field or forest playing.
Play On My Friends,
~ Karin
If you like my blog, please check out my Patreon Page and support me. For one time donations click here: Support the Artist
~Thank you.