A few weeks ago I posted a bunch of survey questions, check out the entry and write me with your own answers to any of them in the form below.  Following is one of my reader's thoughts on the subject.
What's your story?  What would you share from your thoughts, experiences, or POV on kink?  Does what's written below strike a chord for you?  Are your experiences similar or wildly different?
A huge thanks to this week's contributor.  Contact me to add your voice to the discussion, I look forward to hearing from more of you.
To Breath and Being,
~ Karin
###
Can you define what kink is to you?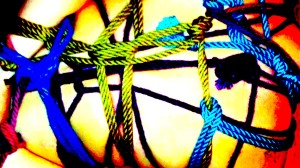 Kink. hmmmm. This is a big one. Anybody with a sex drive has a kink. Kink is a game of connection, sensation and hierarchy.  When you give your horny a form, thats kink. And it goes both ways – kink will give your pinkest parts a form. It's that gift which fits perfectly in your mind. If you let it.
Within kink there is often a sharp question: "Can you play like this with your entire self?" (followed by a state of shock)…
Kink is often associated with a troubled feeling of ick and/or belligerent danger. The associations you make depend on your level of experience, your creative skills and the sex culture that you have been steeped in and are working to build.
###
If you like my blog, please check out my Patreon Page and consider supporting me, or just click here: Support the Artist
~Thank you.
Be an ABCs contributor:  Have a story to share about your kink?  Fill out the as-anonymous-as-you-want-it-to-be feedback form below and you could see your writing published as a part of Wednesday's "Perspectives on Kink: Conversations with the Community" blog on this site.  Don't know what to write about?  Consider answering some of the Survey Questions I posted recently.  Happy writing, and thanks!