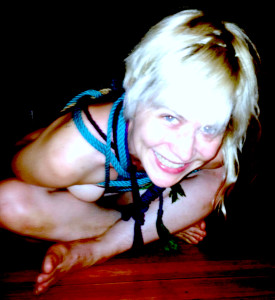 Something that has been knocking about in my head for a little bit is the concept of various head spaces and how they effect both relationship and libido…
A bit of personal background:  I have this terrible and persistent tendency to be in relationship with people I work with, or I'll convince people I'm in relationship with to come work with me on long lasting intensive projects.  It is not that awful (until it is), it can work really well sometimes, and I think is not uncommon in artistic circles (and probably many other careers).  However in the artist's profession, one does not usually follow a regular 9-5 workday, work is a passion that is hard to put down, and work can take up the greater portion of one's passionate, thoughtful, and emotionally driven energies and resources.  I have joked in the past that my "primary" will always be my art.  This has proven to be true on a number of occasions…
So, what does this have to do with kink?  Well, in my experience it has everything to do with one's positive or negative upkeep of their sex life, and it has everything to do with how one negotiates different head spaces with their partners.  I believe that communicating well about what headspace your partner needs to be in for any given period of play has everything to do with negotiating successful kink.
Being good at kink (like being an artist) often requires particular skills to be learned for success in the play room.  Skills are not borne overnight with only a good book on the bedside table for reference.  How does one manage being sexy while tying a knot they have just learned and are having trouble remembering the logistics of?  Confidence enters the player's arena, deflates or becomes agitated due to the messy scene at hand, and soon you have a situation where no one is having fun anymore.  Expectations have been trampled, the mood has been run over and is breathing it's last gasping breaths, tension is fighting for a first row seat to the "let's just go to bed" games, and no one is having the night they thought they were going to have…  This scenario has come across my lap (so to say) many times, both in and out of the bedroom.
I've found really clear communication about what's going on in the moment, and reasonable expectations about what end you're looking to is key to situational morale.  I've learned that saying all the words is better than relaying only the official ones.  When I'm trying to do something and failing, rather than just saying that it isn't working, I am likely to say that it isn't working and how that's effecting me.  If I can advocate for my feelings above and beyond what is obviously lacking in the scenario itself, I am asking my partner to respond to all of the situation at hand.  Maybe they can soothe my aching pride while suggesting something new to try, or perhaps they'll do something to cheer me up while we salvage the moment/action/game/mood…  If I simply say what isn't working, my partner(s) have less recourse to help me with what I'm actually and holistically struggling with – my perfectly imperfect and often frustrating humanness.
Applying this to what headspace I'm in, or want to be in, or wish to bring to my partner in a scene, I'll say something in advance about my expectations and why or how I feel about them.  This goes a long way toward finding success in my endeavors.  Sometimes I just want to practice ties without feeling like I'm ruining a scene or someone's hot and heavy end goals, sometimes I want vanilla sex that beats it all – please hold the horseplay, sometimes I want to try something new and be totally in scene with my partner and have them explicitly not second guess me (or have me second guess them) out loud.  So I have learned to try and say these things out loud before we begin.
I find I'm a much better toy when I've been told that's what is desired of me and I have the opportunity to prepare myself for that kind kind of play.  I'm excellent at not suggesting better ways to finish that knot when we're in tie-me-down mode rather than involved in practice sessions.  I can give space or take space in a million different ways when I know what is expected of me, and I want to do that with the people I'm interacting with and loving on.  I really enjoy the relationships that offer such clear communication about expectations as well as human reality in the moment of our making.
Like creating good art, finding joy, satisfaction, and loving moments are skills I hope to keep getting better at with time, practice, and learning from my perfectly imperfect and often frustrating humanness.
To Breath and Being,
~ Karin
If you like my blog, please check out my Patreon Page and consider supporting me, or just click here: Support the Artist
~Thank you.
###
Be an ABCs contributor:  Have a story or perspective to share about kink or want to promote a kinky event?  Email Karin directly at: Karin@ABCsOfKink.com or fill out the as-anonymous-as-you-want-it-to-be feedback form below and you could see your writing published as a part of Wednesday's "Perspectives on Kink: Conversations with the Community" blog on this site.  Don't know what to write about?  Consider answering some of the Survey Questions I posted recently.  Happy writing, and thanks!