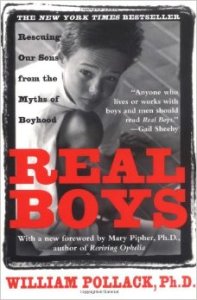 Lately I have been looking for books on what it means to be male and live a holistic and sensitive life embracing one's male identity.  I have found very little of use out there.  It seems most book stores are full of tips on being a gentleman or fishing and fighting in their Male Studies section (if they even have such a section)…  Recently suggested to me by friends have been the titles:
Real Boys: Rescuing Our Sons from the Myths of Boyhood

by William Pollack and Mary Pipher

The New Male Sexuality

The Joy of Sex

No More Mr. Nice Guy

by Robert Glover

Fire in the Belly

by Sam Keene

Iron John

by Robert Bly
www.MarkManson.net
At a used book store I found The Prince and the King: Healing of the Father-Son Wound by Michael Gurian, we'll see how that one turns out, it's an interesting take on masculinity at least…
I have been questing for these resources because of the relationship I am in with a cis-gendered male who has grown up with little support of his sensitive side, and has had little interest in the macho representation of masculinity he's found pervasive in his communities.  I think it is important for people to be able to solidly understand cultural context for identity – both born and chosen – enough to build a strong personal point of view about the various components of who one is.  Without understanding context for "the rule", it is hard to break from it, hard to critique it, and hard to embrace our innate personal differences in confident and healthy ways.
Let me know if you have any books, articles, or resources to add to the list. I'd love more input and I'd love to hear your thoughts on this subject too.
To Breath and Being,
~ Karin
If you like my blog, please check out my Patreon Page and consider supporting me, or just click here: Support the Artist
~Thank you.
###
Be an ABCs contributor: Do you have a story or perspective to share about kink or would you like to promote a kinky event? Email Karin directly at: Karin @ ABCsOfKink . com or fill out the as-anonymous-as-you-want-it-to-be feedback form below and you could see your writing published as a part of Wednesday's "Perspectives on Kink: Conversations with the Community" blog on this site. Don't know what to write about? Consider answering some of the Survey Questions I posted recently. Happy writing, and thanks!