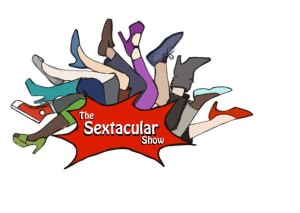 The Sextacular Show is the brainchild of Chris Connolly, a friend of mine who has brought together an entire community of creative sex-positive thinkers in the Boston area to make it happen.  I sit behind the scenes, hoping to make a meeting when I'm in town or suggesting people who ARE in town to hit up for collaborative genius, and wish I could be more involved.  Please do get in touch with them through their facebook page if you want to learn more or participate in some way yourself:
The Sextacular Show:  A show that provides performers and audiences of all walks of life a place for consensual, sex positive, and raucous self expression.
Sounds fun, no?!  I am writing about them today because they have an amazing opportunity to present their project in front of a grant-funding audience called "Feastmass" this Sunday (Father's Day).  If you can make it, please go and support them – your participation matters!  Below are the details, and if you do attend, for a mere $15 suggested donation you get a wonderful dinner, proposals from sublimely interesting people, and a feeling that just by showing up you're a part of something in the Boston area that has great meaning not only to the people attending, but the people participating, and the people those projects eventually reach.  Win win win in my book, so I vote getting your ticket TODAY!:
FeastMass is:
a recurring dinner party in Boston. During the night, people present proposals for creative, community-engaged projects that need funding. Everyone votes, and the winner receives a grant funded entirely from the night's ticket sales.
You must reserve your spot by emailing Feast, there are 100 spots available and they fill up fast.  To join shoot an email to feastmass@gmail.com with your name and the number of guests you're bringing.  They will collect a suggested donation of $15 in cash at the door.  The Sextacular Show will be at the Feast this Sunday, June 15th, at 6:30pm at 549 Columbus Ave (https://www.facebook.com/549Columbus). I hope some of you can make it there!
To Breath and Being,
~ Karin
If you like my blog, please check out my Patreon Page and consider supporting me, or just click here: Support the Artist
~Thank you.
###
Be an ABCs contributor:  Do you have a story or perspective to share about kink or would you like to promote a kinky event?  Email Karin directly at: Karin @ ABCsOfKink . com or fill out the as-anonymous-as-you-want-it-to-be feedback form below and you could see your writing published as a part of Wednesday's "Perspectives on Kink: Conversations with the Community" blog on this site.  Don't know what to write about?  Consider answering some of the Survey Questions I posted recently.  Happy writing, and thanks!