mind an empty thing / drop of water down my chin / splash.  i find the world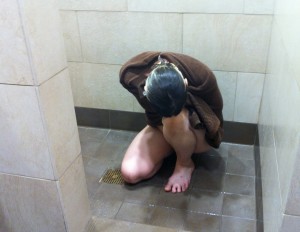 We will take space from one another in crazed, calm, planned, or shocking respites because we must.  Our always existing autonomous selves need the freedom found only in silence.  Even the perfectly socialized heart will strain against fabric pulled tight over viscera, fabric woven by someone else's hands, sold for a song: the devil's tongue is silver dreams for the buying, but never learnt in experience over time.  Buttons about to pop, no – fly!  And tension released only when we are truly free, moments we are naked and alone.
It takes practice to be oneself.
Know your own skin like a photograph caressed by one million viewer's eyes.  Every day you have to try.  Accept that over time we weaken in our design; the glory of you is loving an image/body/being as it is right now.  Right now.  Right… now.  And again.  Now.  Appreciation for folds in the skin, a silver hair here.  Shape changing subtly, keenness spreading large within, gut strong from failure, dig deeper, more, begin.  Ever learning fingers of a practiced master take form beneath your eyes.  Calloused firmness calm with confidence; our grasp gets better over time…  These workings and gears will never be found in someone else, these are not truths you can buy.  Come curiously to your own call.  Listen closely for the silence, is it time?
To Breath and Being,
~ Karin
If you like my blog, please check out my Patreon Page and consider supporting me, or just click here: Support the Artist
~Thank you.
###
Be an ABCs contributor:  Have a story or perspective to share about kink or want to promote a kinky event?  Email Karin directly at: Karin@ABCsOfKink.com or fill out the as-anonymous-as-you-want-it-to-be feedback form below and you could see your writing published as a part of Wednesday's "Perspectives on Kink: Conversations with the Community" blog on this site.  Don't know what to write about?  Consider answering some of the Survey Questions I posted recently.  Happy writing, and thanks!