are really really fun!  I highly recommend cultivating relationships where you can say "what if we…?"  And then find out the answer.  A recent lunch date with a friend turned into this.  I hope you enjoy the photos a fraction of the amount I had while making them.  Thanks HotHotBacon!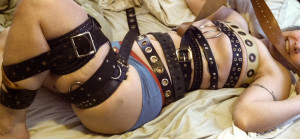 What if we did a photo shoot with belts? What if we took all the ones with patterns and turned them inside out?…

They'll have to be cinched REALLY tight… (not gonna lie, this was only something I could do without panicking because I dance in corsets a lot)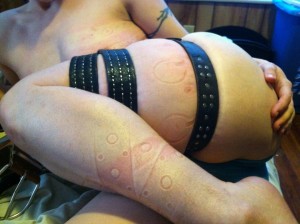 Certain belts we decided should go on the thigh so they could show up really well…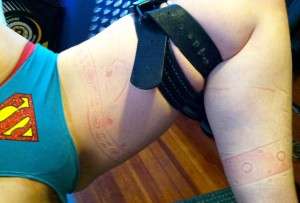 My friend Professor Oni can't decide if this should be entitled "Super Snatch" or "Krypton Kooter"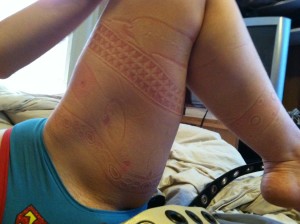 That last belt which was on longest had a lot of studs, but the one closer to my crotch that has the circles and dots was a seriously studded belt – 1/2 inch spikes in my thigh.  Painful and I can't say I didn't really enjoy it…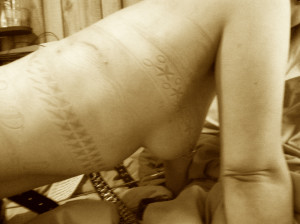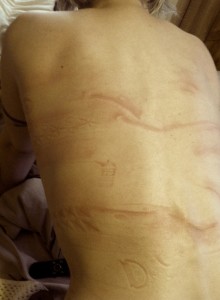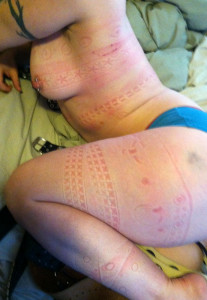 While I was still belted in we slapped and punched everything which helped me retain the marks (and of course was really fun too)…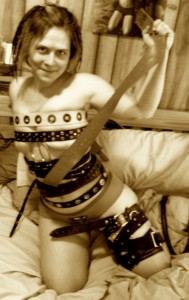 A perfect weekday afternoon brought to you by HotHotBacon and UnAmerika's Sweetheart Karin Webb (aka FindingIt on FL)
To Breath and Being,
~ Karin
If you like my blog, please check out my Patreon Page and consider supporting me, or just click here: Support the Artist
~Thank you.
###
Be an ABCs contributor:  Do you have opinions, stories, questions, or ideas concerning kink?  Fill out the anonymous form below and you could see your writing published as a part of Wednesday's "Perspectives on Kink: Conversations with the Community" blog.  Don't know what to write about?  Consider answering some of the Survey Questions I posted about recently.  Happy writing, and thanks!