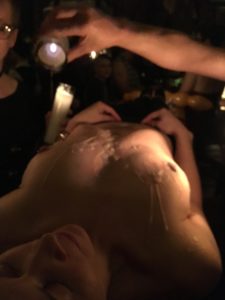 I've been talking for a long while about starting a BDSM skillshare class, and tonight is my first one!
Not only am I really excited about it, I view this work as something I can do that makes the world a safer and less repressed place for everyone. In light of all that's been happening lately, from the badly behaving presidential debates, to PRIDE celebrations, and the tragedy this weekend in Orlando, I am grateful that I get to gather with like-minded and/or interested people tonight to celebrate and learn more about our curiosities and desires. Tonight's topic is Consent, Negotiation, Communication, and Safety.
If you're interested in coming, it'll be happening monthly, so message me and I'll invite you to the event. There is a vetting process, so if I don't know you well enough we can set you up for an interview and you can possibly get into the next one…
Happy GLBT and Queer Pride month, folks. May all our ideas of self be safely explored ones, our skills be innumerable, and may the boogymen and stay further and further at bay.
To Breath and Being,
~ Karin
If you like my blog, please check out my Patreon Page and consider supporting me, or just click here: Support the Artist
~Thank you.